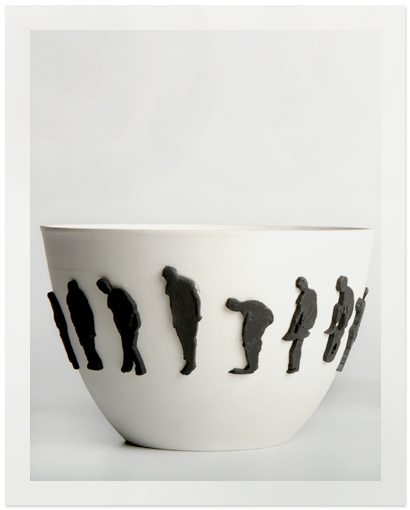 Olympic Gold
(2005)
In de Griekse oudheid werden belangrijke gebeurtenissen vaak afgebeeld op keramiek. Deze momenten, van geboorte tot gouden bruiloft, werden op tragische, verheven wijze gepresenteerd. Tegenwoordig wordt deze manier van presenteren nog steeds gebruikt, bijvoorbeeld door het chique Wedgwood serviesgoed. Deze elegante, verfijnde, drie dimensionale decoraties zijn geliefd bij mensen uit alle rangen en standen. Lara de Greef heeft keramiek gedecoreerd met afbeeldingen die meer herkenning oproepen met alledaagse handelingen, zoals het aan- en uittrekken van kleding of schoenen, het vegen van de vloer of het beoefenen van sport. In Lara's ontwerpen, tonen de gedetailleerde decoraties een fraaie animatie.


| | |
| --- | --- |
| Materiaal: | Porselein |
| Techniek: | Garneren |
| Formaat: | Ø 18 x H 8 cm. |
| Kleur: | Zwart en wit |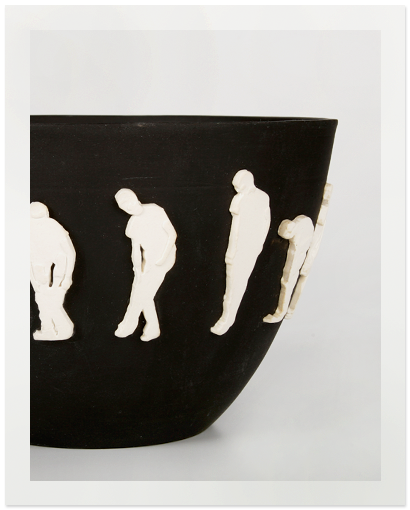 Olympic Gold
(2005)
In Greek antiquity major events were often depicted on ceramics. These events, from birth until golden wedding, were shown on a tragically, lofty manner. Today, this way of presenting is still used, for example by high quality Wedgwood china. These elegant, sophisticated, three-dimensional decorations are loved by people from all walks of life. Lara de Greef liked to decorate pottery with images that call for more recognition with everyday acts of life, such as dressing and undressing, getting into or out one's shoes, sweeping the floor or practising sports. In Lara's designs, the detailed decorations show these animations very nicely.



| | |
| --- | --- |
| Material: | China |
| Technique: | Garnish |
| Size: | Ø 18 x H 8 cm. |
| Colour: | Black and white |